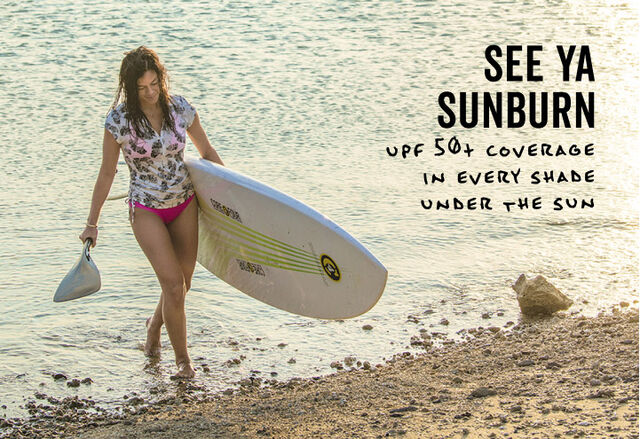 Swim Shirts & Sun Shirts
Swim Shirts & Sun Shirts
Sunburn no more—get all day sun protection with Women's Sun Shirts & Swim Shirts.
When we're having fun in the sun, the last thing women want to worry about is reapplying sunscreen. That's why Title Nine created a collection of UPF-rated short sleeve and long sleeve sun shirts for women that have sun protection built right in.
What are the benefits of wearing a swim shirt?
The better question is: what aren't the benefits of a swim shirt? Whether short or long sleeve, these UV-resisting shirts protect our skin so well, we can't imagine getting into the water without them. Plus, with their quick-drying abilities, we can wear them in and out of the water in total comfort. Here are just a few reasons why you should add a swim shirt and/or rash guard to your beach day 'fit:
- Built-in sun protection. This one's pretty much a given when it comes to swim shirts and rashguards. T9 swim shirts, sun shirts, and rash guards are all built with a UPF 50+ rating for long-lasting skin protection. Our swim shirts, sun shirts, and rash guards also help cool you down during those hotter-than-hot summer days. If you're going for a short sleeve shirt, just remember to reapply sunscreen on your arms. With a long sleeve, though, you don't have to reapply as often. Either way, you can't go wrong with the UV protection our swim-ready shirts offer.
- Extra coverage. Some of us prefer not to show too much skin on the beach. For those who like a more modest beach look, a swim shirt or even a rash guard are both great picks. We get the UPF 50 sun protection we need, plus a swim-ready shirt or rashguard that dries in a flash, so we can bounce to the next activity, no problem.
- Better swim experience. While a regular t-shirt might balloon underwater, swim shirts have a more body-skimming fit. They'll feel like a looser-fitting one-piece, but with way better sun protection, thanks to the built-in UPF 50 rating and sleeves. We can stay in the water longer without worrying about a sunburn or sun rash on our arms, back, chest, and torso.
- Tons of styles to choose from. Women still have choice here at T9. Our sun shirts, swim shirts, and rashguards come in tons of colors, prints, and sleeve lengths, plus half-zip, full-zip, and cropped options. Whether you're boating, swimming, SUPing, or just soaking up summer, there's a swim-ready top in your ideal sleeve length that suits your style and level of activity. If you're surfing or doing a more intense water workout, a long sleeve rash guard might be a better choice.

Are sun shirts protective?
T9 swim shirts and sun shirts for women are all specially designed with UPF 50 fabric, so they offer excellent sun protection all day long, whether we're going for a swim, hopping on a surf board, hanging at the beach or doing any outdoor activities. A sun shirt often looks like a regular shirt, and comes in a wide variety of styles for women, like short sleeve, long sleeve, zip-up, or pullover tops. The difference? The sun protection is built right in.
What is UPF 50?
A UPF rating helps you know how much UV protection a sun shirt or rashguard provides. The Skin Cancer Foundation rates anything above a UPF 30 as "very good protection," but most of Title Nine's sun-protective clothing for women is UPF 50+ (rated as "excellent protection"). Think of it a bit like SPF (sun protection factor)—the higher the number, the more UV rays it blocks. A regular shirt has very poor protection—technically you should wear sunscreen underneath a regular cotton t-shirt. A UPF garment? No SPF required.
What kind of swim shirt should I wear?
There are many types of swim shirts to choose from at T9. But depending on the water sport you're gearing up for, you might have to choose between a swim shirt or rash guard. From picking the right sleeve length to extra features like zippers and hoodies, we've got the perfect swim shirts and rash guards for women, whatever we're up to in and out of the water.
- Long Sleeve Swim Shirt - If you want more coverage and the option to spend less time reapplying sunscreen, a long sleeve swim shirt delivers the UV protection you need, plus a comfortable fit for all day wear. Our long sleeve options have a more relaxed fit and are better for low-intensity swims. They also double as a sun protective cover-up. If you plan crushing on a higher-intensity swim, a rash guard is a better choice here.
- Short Sleeve Swim Shirt - Want to feel a little more water on your skin? Go for a short sleeve shirt, then. Ideal for low-intensity swims, paddle sessions, boat days, and more. Just remember to reapply sunblock on your arms, neck, and face!
- Rashguard - The sportier cousin of the swim shirt, a rash guard has a more compressive fit for higher-intensity swims and water sports—but you can still wear a rash guard for any water activity. Whether you choose a short or long sleeve rash guard, you'll get the same UV protective benefits as a swim shirt. Most women athletes prefer long sleeve rash guards to save time reapplying and spend more time in the water. Oh, and if the name didn't give it away, you'll also avoid rashes when you wear a rash guard for your surf or sailing session.
-Swim Hoodie - When you want a little extra coverage from harsh UV on your face and the back of your neck, a swim hoodie is where it's at. Everything you would do in a swim shirt, you can do in a swim hoodie. Our swim hoodies also have sleeve length options, plus full-zip or half-zip styles. And if the weather takes a turn, your hoodie will get you through the afternoon storm.
What should I look for when buying a swim shirt?
There are a few things to consider before buying a swim shirt. Which sleeve length should you choose? How should it fit? You want your gear to last season after season and provide the UPF protection you need to avoid the risk of sunburns. Swim shirts, sun shirts, and rashguards may have different uses, but make sure they check these boxes before closing out your cart:
Fabric - High quality fabrics, like nylon and spandex, will help your swim gear last longer. These fabrics are also quick-drying, so you can forget soggy suits.
Fit - Swim shirts have a more relaxed fit compared to the compressive, sportier fit of a rash guard. That said, make sure your shirt isn't too tight on the sleeves or along your torso. You want it to fit comfortably so you can swim, run, and soak up the sun, your way.
UPF Rating - One of the most important features to look for from swim shirts, sun shirts, and rash guards is the UPF rating. UPF 50 is ideal (it's built in all T9 swimwear and gear) for long-lasting protection from harsh UV.
Design & Style - At T9, we have tons of options across color, patterns, sleeve length, and style. Solid, printed, long sleeve, short sleeve, zipper, or hoodie, you really can't go wrong.
How should I care for my swim shirt?
Proper washing and drying are key to maintaining the quality and performance of your swim shirts and rashguards. To keep your swim gear fitting and feeling like new, always rinse off your shirts and rashguards with cold water immediately after wearing. Hand wash with mild soap and lay them out flat to dry. Avoid harsh chemicals, like bleach, and always store your gear with similar fabrics.
Do I need to wear sunscreen underneath a swim shirt?
Nope—that's the beauty of swim shirts and
rash guards
. They're created with special UPF 50 fabric that blocks the sun's damaging UV rays, so you don't need to worry about SPF. Don't forget to apply sunscreen to all the parts that aren't covered, though—even a long sleeve rash guard or sun shirt doesn't protect every part of your body (we're looking at you, back of the neck!)
Are swim shirts different than rash guards?
While both swim shirts and rash guards are designed to protect you from the sun while you're in the water, swim shirts and rash guards have some basic differences:
- Swim shirts are all-purpose swim tops, just as comfortable for swimming as they are for playing with the kids or grabbing a bite from the snack shack. They're a perfect cover-up or topper to your swimsuit.
- Rash guards—long sleeve or short sleeve—are most often used by surfers or other high-intensity water sports, and fit like a compression shirt so it stays put no matter through even the most epic wipe out. While they're super high-performance, they aren't necessarily meant for lounging by the pool.
Shop featured categories: