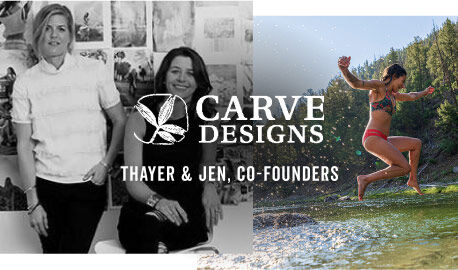 Jennifer Hinton and Thayer Sylvester came to a conclusion: Board shorts and rashguards were ill-fitting for women surfers. Together, they solved the issue by building Carve Designs, a brand that balances form and function with gear that keeps up with real women with real bodies and a real passion for adventure.
Carve Designs Swimwear & Clothing
Carve Designs Swimwear & Clothing
Carve Swimwear & Carve Clothing
When we need women's swimwear and shorts that move with us, we shop for Carve clothing at Title Nine. Founded by two badass women who love the outdoors, Carve Designs is made for active women who refuse to sacrifice performance for style. From reversible bikini tops to shorts that come in a variety of inseam lengths, Carve Designs creates clothing for women with a passion for adventure.
Why Title Nine partners with Carve Designs?
Beach, mountain, or town, Carve clothing provides women with gear to conquer every swell, slope and street. Whether we're going for a swim and navigating big waves in stay-put swimwear or looking for stylish bottoms or well-fitting shorts for dashing around town in, we can always count on Carve styles to stay comfortable and stay put through all our adventures. In fact, we love Carve Designs so much, they're part of our T9 Movers & Makers program—a community of women-run companies that we partner with, support, and celebrate. Carve swimwear is our go-to swimsuit company for women, with zip-up sunshirts, reversible bikini tops, tankini tops, reversible bikini bottoms, long-sleeve rash guards, boardshorts, and one piece swimsuits built to look great and outperform the rest.
Carve Designs shorts and bottoms for women come in inseam lengths and colors that fit our style. Whether you're cliff-diving or grabbing brunch, Carve clothing and swimwear is comfy, stylish, and ready to rock.
Is Carve Designs sustainable and ethical?
Jennifer Hinton and Thayer Sylvester, the women who founded Carve Designs, are all about enjoying the outdoors—and passionate about protecting it. 85% of Carve Designs styles are made from sustainable materials. Their eco-friendly fabrics include Coconut Balsa, a lightweight, fast-drying fabric made from coconut husks and recycled plastic bottles (really!), and FlyWeight™, another lightweight fabric made from recycled plastic bottles. They're also experts in creating amazing, well-fitting, and sustainable styles for women with organic cotton, organic corduroy, and organic denim for shorts and bottoms, and recycled swim fabric for swimwear that gives us the best fit ever.
The Carve Designs brand also gives back to the community, with collaborations with SheJumps, a group that motivates women and girls to get outside, and the Send It Foundation, which sends young adult cancer survivors on surf trips.
Are Carve Designs styles made in the USA?
Most of Carve Designs' swimwear for women is made in California. Some Carve clothing for women, like shorts and bottoms, are also made overseas, in partnership with select production facilities. Carve develops deep relationships with these facilities to ensure a quality product and the fair treatment of workers.
Where is Carve Designs located?
Just like Title Nine, Carve Designs is based in Northern California—Sausalito, to be exact.
How are Carve Designs sized?
Carve Designs swimwear and Carve Designs shorts use standard S/M/L sizing. Not sure what size you are? Every Carve Designs item we sell includes a Women's Carve Designs Sizing Chart link to help you find just the right size, whether you're looking for swimwear or shorts.